Normandy and Iraq
How Cpl. Joshua Dale of the USMC independently reinvented a 62 year old tactical innovation.
---
The Marine Corps sends a link to this article describing an impromptu kind of battering ram welded to the front bumper of a Humvee to smash through obstacles.
CAMP AL QA'IM, Iraq (June 6, 2006) -- When he joined the Marine Corps in 2002, Cpl. Joshua W. Dale never thought he would be using his welding experience to defeat insurgents in western Iraq. The 23-year-old section leader with A Company, 1st Battalion, 7th Marine Regiment, brought his ideas to life by inventing a breaching bumper for a humvee in his mobile assault platoon. The breaching bumper is mounted on the front of the humvee and resembles a large arrowhead made of thick steel. The bumper is used to do one thing – tear through anything that gets in the humvee's way. "We needed something on our humvees to assault through barriers, like locked gates and low brick walls," said the Silver Street, S.C., native. "This bumper will go through just about anything."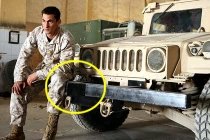 This is an interesting illustration of how things forgotten, or at least put away in dusty corners of memory are reinvented under the press of necessity. In the Normandy campaign, US infantrymen needed a device that would smash through the thick hedgerows in Normandy. The story of the tactical innovations to defeat the hedgerows is described in The Bocage How Americans Overcame It
The American Sherman tanks could not run over the hedgerows. Instead, the Sherman tank would continue to roll once making contact with the hedgerows, and this would cause the tank to lift up a bit and expose its vulnerable "belly." ...
Explosives, bulldozers and other expedients were tried. They worked but were not always available and had other drawbacks. Then somebody invented the hedgerow cutter.
1st Lt. Charles B. Green came up with the idea of welding a strong bumper device made of railroad tracks on the Sherman tanks so that the tanks could ram through the hedgerows. This proved to be a successful method, but it was not the most popular. Soldiers of the 2d Armored Division's 102d Cavalry Reconnaissance Squadron invented the hedgerow device that gained the widest publicity During a discussion among the officers and soldiers of the division, someone suggested attaching teeth to the tanks in order to cut through the hedgerows like a gardening tool. Many of the troops did not take the suggestion seriously, but Sgt. Curtis G. Culin did take it seriously. He designed and supervised the welding of the cutting devices made from scrap iron from German roadblocks. These customized Sherman tanks were effective and were nicknamed "rhinoceros" because of their appearance.
Here's what it looks like. The more things change, the more they stay the same. In fact reenactors are manufacturing the same "Culin" ram today.