Crushed and broken on the virgin soul
The body of Christian Peacemaker Teams activist Tom Fox has been found in Iraq, according to the BBC.
The US State Department says an American who was among four peace activists kidnapped in Iraq last year has been killed. ... Fox, 54, had been working with Iraqi human rights organisations for the past two years. The four men were travelling with Canadian-based international peace group Christian Peacemaker Teams when they were seized by a group calling itself the Swords of Truth.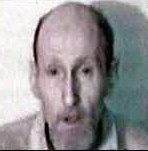 It is abundantly clear from the Christian Peacemaker Team website that they could hardly have done more to declare their sympathy for the Muslim world, the Palestinian cause or their distaste for America. A less haggard Tom Fox is shown holding up a sign protesting the construction of an Israeli barrier in "Palestine". There's a statement abhorring the publication of the Jyllands-Posten cartoons, which says:
We, the members of the Christian Peacemaker Teams in Iraq, are disturbed by anti-Muslim cartoons from twelve different artists published in September by Denmark's daily paper the Jyllands-Posten. The publisher claims the freedom of speech to publish the cartoons, but we believe they are only spreading hate and bigotry. To those who believe and act as if terrorism is an essential part of the Islamic faith, we say No! Stop! We cannot stand by and remain silent when our gracious Muslim brothers and sisters are being defamed.
Tom Fox wrote a couple of articles setting out his goals. In Why we are here?, Fox said:
As I survey the landscape here in Iraq, dehumanization seems to be the operative means of relating to each other. U.S. forces in their quest to hunt down and kill "terrorists" are as a result of this dehumanizing word, not only killing "terrorist", but also killing innocent Iraqis: men, women and children in the various towns and villages.

It seems as if the first step down the road to violence is taken when I dehumanize a person. That violence might stay within my thoughts or find its way into the outer world and become expressed verbally, psychologically, structurally or physically. As soon as I rob a fellow human being of his or her humanity by sticking a dehumanizing label on them, I begin the process that can have, as an end result, torture, injury and death.

"Why are we here?" We are here to root out all aspects of dehumanization that exists within us. We are here to stand with those being dehumanized by oppressors and stand firm against that dehumanization. We are here to stop people, including ourselves, from dehumanizing any of God's children, no matter how much they dehumanize their own souls.
Fox was not oblivious to the fact that terrorists in Iraq killed innocent people too. Or that his life was in danger at terrorist hands. He could offer no definite answer to the question he himself posed: "How do you stand firm against a car-bomber or a kidnapper?" But he was sure of one thing: fighting was always the wrong answer.
Clearly the soldier disconnected from God needs to have me fight. Just as clearly the terrorist disconnected from God needs to have me flee. Both are willing to kill me using different means to achieve he same end--that end being to increase the parasitic power of Satan within God's good creation. It seems easier somehow to confront anger within my heart than it is to confront fear. But if Jesus and Gandhi are right then I am not to give in to either. I am to stand firm against the kidnapper as I am to stand firm against the soldier. Does that mean I walk into a raging battle to confront the soldiers? Does that mean I walk the streets of Baghdad with a sign saying "American for the Taking?" No to both counts. But if Jesus and Gandhi are right, then I am asked to risk my life, and if I lose it to be as forgiving as they were when murdered by the forces of Satan.
Comments
I knew a man once who rushed to church in tears of gratitude over the fact that he didn't have to kill someone. It was at the height of Ferdinand Marcos' power and his secret agents were taking a tremendous toll of the underground. Two men in this mans' cell had disappeared. The first had taken a Greyhound-type bus to the Cagayan Valley and had never gotten off. Another had gone by outrigger from Luzon to the island of Mindoro, where it was said, he had been killed on a beach upon landing by a .45 pressed to his nape as he walked unsuspectingly on the sand. The suspected betrayer was a small, bucktoothed man with almost childish enthusiasm for basketball, given to hysterical fits of laughter. But he was certainly the informer and had to die before he betrayed a third. As it happened, someone else killed the informer and man whose job it was to shoot him was everlastingly grateful that God had arranged for the cup to pass away. Someone else had done the deed and he could go from out the darkness of the Marcos dictatorship with only sweet memories upon his soul.
The question that always bothered me was whether that person -- or any man -- had any right to expect someone else to do the dirty job for him. Can we ever simultaneously acknowledge the necessity of a deed and the absolute immorality of doing it? That in a nutshell is the Problem of Evil: that evil exists and that by and by we will have to face it. The question Tom Fox should have posed is "how do you stand firm against a car-bomber headed straight for a schoolbus?" And if you say, "shoot to save the children" ask yourself if it ever justified to be glad that God had sent someone else to shoot the bomber and go hell in your stead. Tom Fox stood for his beliefs to the bitter end. And now the men who killed him are out there, waiting to kill again.